Bi-Directional Shopware Connector for odoo – Simplify-ERP®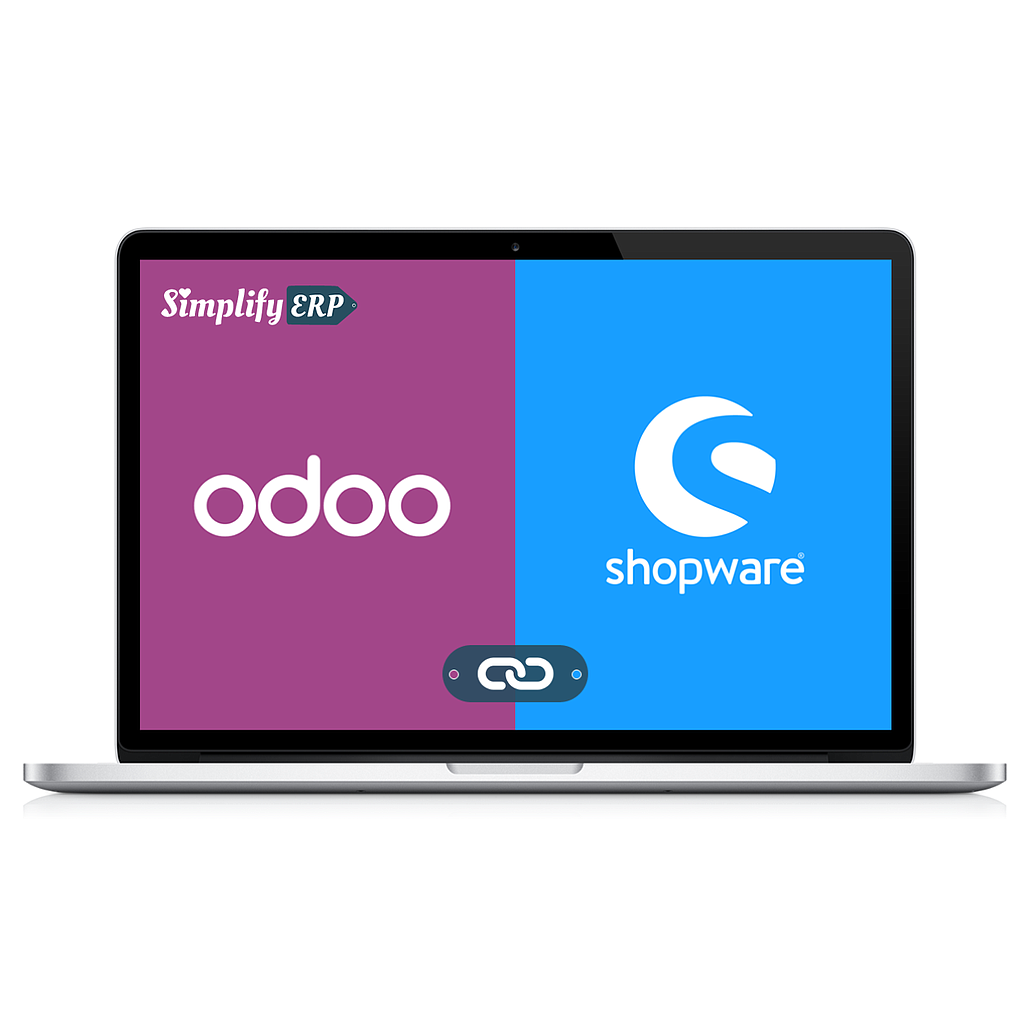 Bi-Directional Shopware Connector for odoo – Simplify-ERP®
---
---
Bi-Directional Odoo Shopware Connector
The odoo Shopware Connector of Simplify ERP® enables the connection between odoo ERP and the Shopware standard shop system. Shop owners who rely on Shopware can manage their multichannel strategy, product management, customer master data management, order processing and help desk activities, centralized for all their shops and sub-shops, in the odoo.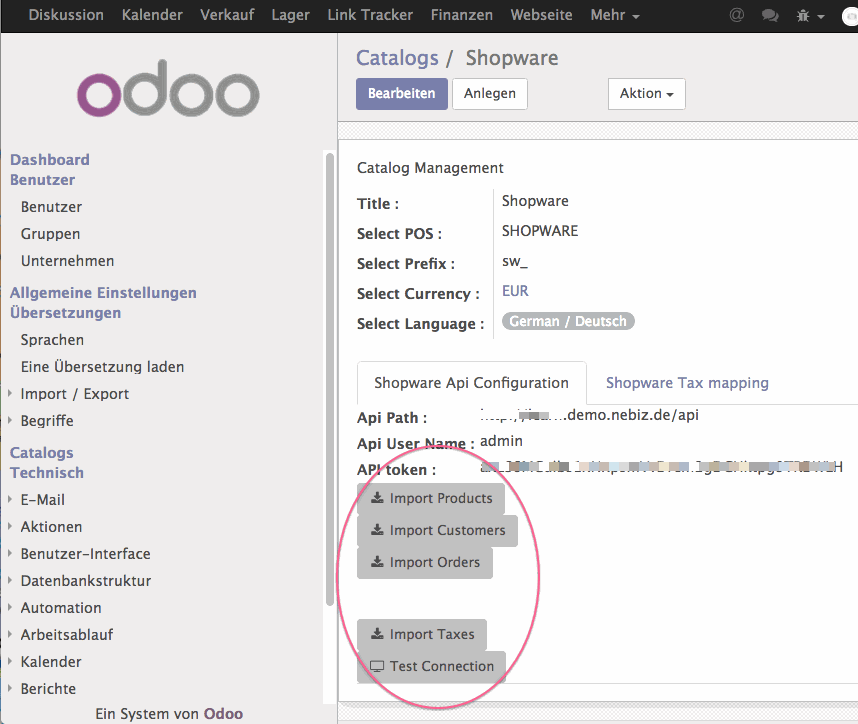 Functionalities at a glance
Communication between odoo and Shopware via the native REST API

Assortment management via odoo Catalog Manager

Product Master Data Reconciliation of odoo → Shopware

One-time import for system introduction of products from Shopware → odoo

Automatic stock reconciliation from odoo → Shopware

Automated comparison of orders from Shopware → odoo

Automated reconciliation of customer master data from Shopware → odoo

Compatible with the Shopware Community Edition
Shopware product management in odoo
The Shopware Connector for odoo fits in the context of a multichannel e-commerce framework, with several online distribution channels being connected to odoo in a centralized manner. Your entire Shopware product assortment can be managed in odoo in a dedicated catalog. You can control the following data records from odoo: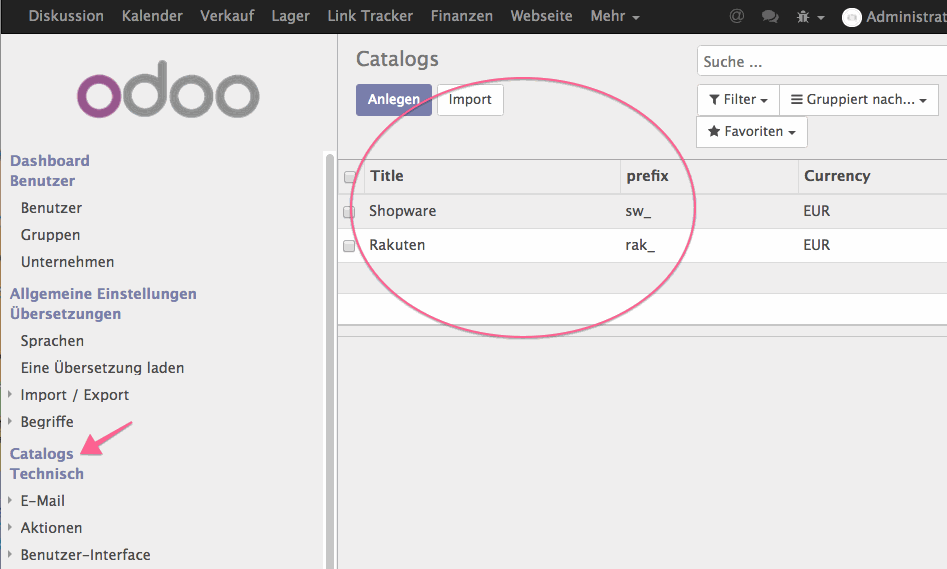 Article master data such as title, short description, long text and images

Variants with differentiated prices

stock

Prices according to the customer group

Shopware product settings

SEO information such as Meta-Description u. Meta keyword (s)
Management of Shopware customers in odoo
Customers of Shopware webshops can be centrally managed in odoo. The master data then forms a holistic CRM file of that customer. Employees can do all customer management tasks in the odoo.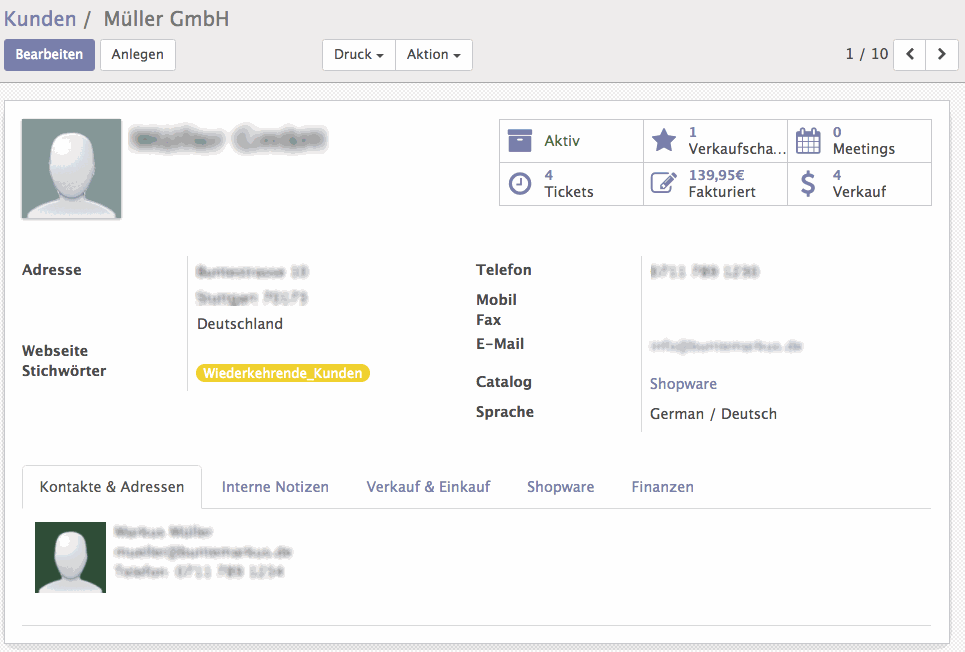 Centralized management of all multichannel customers in the odoo

Customer communication is based on ready-made templates

Grouping u. Filter customers by tags

Overview of Sales & Marketing sales

Integrated access to help desk tickets

Overview of appointments, phone calls and follow-up activities at B2B customers

Manage new opportunities for B2B customers
Shopware order processing in odoo

Orders generated in Shopware can be processed centrally in odoo. The Shopware interface for odoo ensures the regular downloading of orders (sales orders) from Shopware in odoo including VAT amounts, discounts on shipping costs and order items.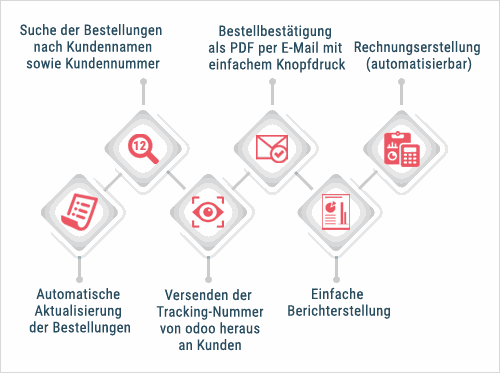 Automatic and regular updating of orders from Shopware in odoo

Sending the tracking number of odoo out to customers

Easy reporting of VAT amounts for a selectable period

Search for orders by customer name and customer number

Order confirmation as PDF by e-mail with a simple push of a button

Billing (automatable)
Helpdesk and customer support based on odoo

Our complete help desk solution ensures that you get a complete software solution to support your customer support processes based on the award-winning, battle-tested odoo platform. Our complete solution includes the following services: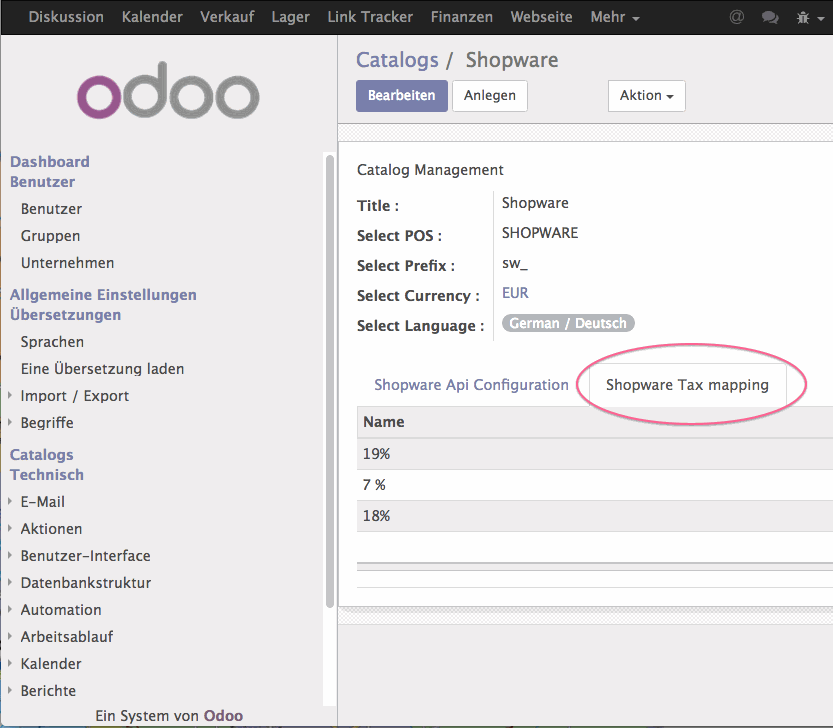 Setup and commissioning of the necessary functional modules

Adjustments for German companies through the German Country Pack

E-mail integration for inbound and outbound e-mail

Commissioning

User training

Odoo hosting with SSL encryption
Overall functionality
The common back-office processes are relocated to odoo. Thus, shops and online platforms remain exclusively for generating new orders and acquiring new customers. odoo provides centralized handling, product management, customer support and mail marketing processes.